Lake Ohau Discover a Hidden Gem in Otago Region
Unveiling the Beauty of Lake Ohau: A Hidden Gem near Queenstown, New Zealand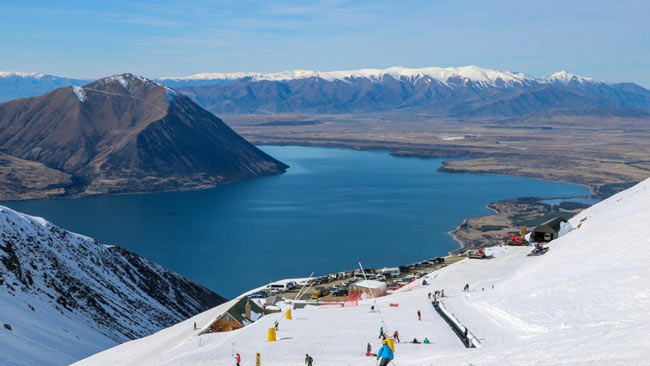 Distance from Queenstown: 202.7 km
Travel Time: 2 Hours and 30 mins

Queenstown, New Zealand, is a popular tourist destination for its stunning natural beauty and outdoor recreational activities. While many people visit the region for its famous ski slopes and breathtaking views of the Southern Alps, only some know the hidden gem of Lake Ohau. This serene body of water is just a short drive from the bustling town and offers a peaceful escape from the crowds.
The Natural Beauty of Lake Ohau
Towering peaks and rolling hills at the base of the Southern Alps surround Lake Ohau. This glacier-fed lake is one of the clearest in New Zealand, and its turquoise waters reflect the stunning mountain scenery. Visitors can enjoy the view from several lookout points along the shore or take a boat tour for a unique perspective.
One of the most popular attractions in the area is the Ohau Waterfall Walk, a short, easy hike to a waterfall that cascades into the lake. The trail takes you through a forest filled with native flora and fauna, offering opportunities to spot rare bird species and other wildlife. The waterfall is stunning after heavy rainfall, and visitors can swim in the pools below for a refreshing dip.
Outdoor Recreational Activities
In addition to its breathtaking beauty, Lake Ohau is also a hub for outdoor recreational activities. Whether you're a seasoned adventurer or simply looking for a stroll, there is something for everyone. Hiking trails crisscross the surrounding hills and mountains, offering a range of difficulty levels and spectacular views. One of the most popular hikes is the Ohau Peak Track, which takes you to the summit of Ohau Peak for panoramic views of the lake and surrounding landscape.
Several boat rental options, including kayaks and paddleboards, are available for those who prefer to stay on the water. Visitors can explore the lake at their own pace, taking in the breathtaking scenery and enjoying the peaceful surroundings. Fishing is also popular, with rainbow and brown trout abundant in the lake's clear waters.
A Peaceful Escape from the Crowds
While Queenstown is a bustling tourist destination, Lake Ohau offers a peaceful escape from the crowds. The small town of Ohau is located on the shores of the lake and has a relaxed, laid-back atmosphere. Visitors can stay in a cosy cabin or campground or enjoy a luxurious stay at one of the area's lodges. With fewer crowds and a relaxed pace of life, Lake Ohau is the perfect place to unwind and recharge after a busy day exploring the surrounding area.
Why Lake Ohau Should be on Your List
In conclusion, Lake Ohau is a hidden gem in Queenstown that offers a peaceful escape from the crowds and a breathtaking display of natural beauty. With stunning views of the Southern Alps, opportunities for outdoor adventures, and a peaceful atmosphere, it's no wonder this serene body of water is quickly becoming a must-visit destination. Whether you're a seasoned traveller or simply looking for a relaxing getaway, Lake Ohau will surely exceed your expectations. So pack your bags, grab your camera, and head to Lake Ohau for an unforgettable experience.
Final Thoughts
In an era of crowded tourist destinations and over-commercialized attractions, Lake Ohau offers a refreshing change of pace. This hidden gem in Queenstown is a must-visit destination for anyone looking for a peaceful and refreshing trip.
Design your trip:
If you are looking for an excellent value bus hire in Queenstown, then contact: https://thecoachcompany.co.nz We offer tailor-made solutions for all your transport needs